The advent of super bright LED lights has changed torches forever.  My first decent torch was a Maglite, with a standard (non LED) bulb and I'll always have fond memories of the spare bulb you got in the bottom of the torch.  It was bright enough at the time I suppose, but when I think about how much brighter modern torches are in comparison, I am shocked.  These super bright LED torches blow these old torches out of the water, not just in terms of brightness but also with how long the batteries last.  Whilst they are so much brighter, they also use less power per lumen in comparison to incandescent bulbs.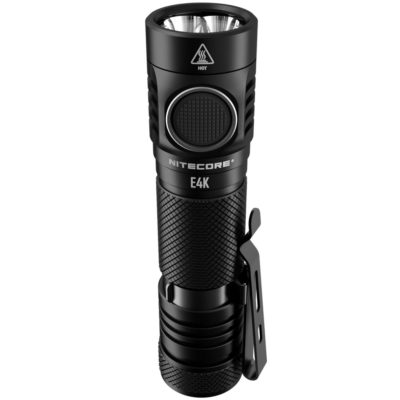 Let's jump in and take a look at this high-powered beastie.
Everyone knows that a decent torch should be part of any good every day carry and the Nitecore E4K is perfect for this.
It's a tough looking black 'tacticool' torch milled from aero grade aluminium alloy.  This gives it a lot of strength, without adding too much weight.  According to Nitecore, it is impact resistant to 1 metre, which is the kind of height it'd be at if it fell from your hands. It is also rated to IP68, which means it will survive immersion up to 2 metres, as well as being dust, sand and dirt resistant.  Nitecore are so confident about this torch's toughness, they've given it a 5 year warranty promise.
All of this and it's small enough to fit in the palm of the hand, measuring less than 12cm in length.  It's quite chunky, with a head diameter of 2.8cm and tube diameter just slightly smaller at around 2.6cm.
There is a lot of great engineering in the Nitecore E4K, the unibody is rugged yet tactile, having been CNC machined from aluminium which makes it light, tough and able to dissipate heat well.
It has a range of brightness settings, each being able to operate for different lengths of time depending on the output:
Turbo: 4400 lumens – 30 mins runtime
High: 1050 lumens – 3 hrs 15 mins runtime
Mid: 320 lumens – 7 hrs 30 mins runtime
Low: 50 lumens – 45 hrs runtime
Ultralow: 2 lumens – 700 hrs runtime
It also has a strobe feature where the light flashes randomly, a SOS feature (light flashes in the familiar 'dot-dot-dot dash-dash-dash dot-dot-dot' sequence) and a beacon setting.  These are incredibly useful features to have in an 'everyday carry' torch.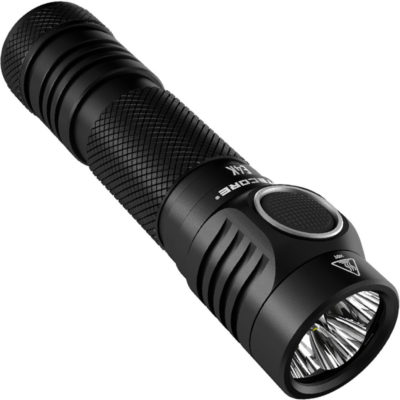 The Nitecore E4K utilises 4 super powerful Cree XP-12 V6 LEDs, which give it it's stunning brightness.
I've taken a good look at the manufacturer information, and a lot of it appears to be a bit of a word salad, but here is the info, straight from the horse's mouth:
Optical system combined with crystal coating and Precision Digital Optics Technology (PDOT)
Highly efficient constant current circuit provides a stable output
One side switch specially designed for outdoor activities
Strobe mode uses randomly changing frequencies for strong dizzying effects
Power indicator beneath the side switch indicates remaining battery power
Power indicator can display the voltage (±0.1V)
Incorporated Advanced Temperature Regulation (ATR) module
Electronic reverse polarity protection
Optical lenses with double sided scratch resistant coating
Constructed from aero grade aluminium alloy
HA III military grade hard anodised finish
Tail stand capability
I don't know exactly what 'Precision Digital Optics Technology' actually means, but it sounds like marketing speak for 'a good reflector'.  Being coated with crystal should make the lens more scratch resistant though, like decent watch glass.
In practice, this is a VERY bright torch.  Turbo mode, which means the battery lasts for only 30 minutes, is incredible. It'll illuminate over 200 metres which surely must be enough for just about any use?  Even the 'mid' setting of 320 lumens is bright for a pocket torch.  The kind of brightness you're looking at here would have set you back hundreds of pounds not so many years ago.  I've seen torches available with 100,000 lumens, which to me seems like overkill.  Yes, the ability to light something up over 1.3km away is great and all, but my eyeballs couldn't see anything that far away without a decent set of binoculars.
What else is in the box you ask?
The Nitecore E4K comes with a bunch of stuff besides the torch itself:
Nitecore NL2150HPR 5000mAh 21700 li-ion battery
USB-C charging cable
CR123 battery magazine
pocket clip
holster
lanyard
spare o-ring
This is a rechargeable (via the included USB-C cable) torch, which is great until the charge runs out and you can't charge it – but Nitecore have included the ability to use a couple of CR123 batteries via a holster to swap the rechargeable battery out.  This really is a great feature – going out fully charged and a having a backup power supply is ideal for any survival, prepping or camping situation.  Nitecore really have packed this torch with features.
This really is a great torch and for the money offers exceptional value.  If you're looking for a super bright torch with a bunch of amazing features, you need to put the Nitecore E4K on the list – you would not be disappointed to have this as part of your Pocket Dump!
You can buy the Nitecore E4K on PocketDump.com