Is that an incredibly powerful torch in your pocket or are you just pleased to see me?
The Nitecore MH20GT is described by Nitecore as a 'palm-size spotlight', so let's take a closer look and see if it lives up to the description.
The first thing you notice about this torch is just how small it is.  It measures a mere 4.37″ from end to end with the diameter of the head being 1.25″ and the tail having a diameter of just 1″.  So it really is palm sized!  It weighs in at a touch over 3oz (without battery), so it feels weighty for its size, which gives a sense of toughness.  It is finished in black all over and has a nicely positioned deep pocket clip, the milled areas and the overall design give it a real tactical look. It would certainly fit the 'tacticool' aesthetic and wouldn't look out of place clipped to the pocket of a tactical vest.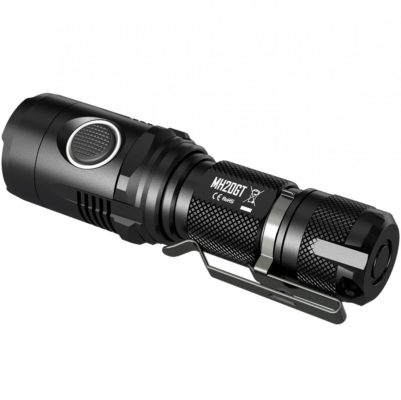 However, looking good is great and all, but does it back it up with good performance?
In a word, yes.
Do not be fooled by the diminutive size of this torch, it really is very bright.  I has a domeless design which means it has a concentrated beam which can reach up to 362m!  For a torch this size, that is pretty amazing.  The measured output in full 'turbo' mode is 1000 lumens.  This does reduce the running time to just an hour though.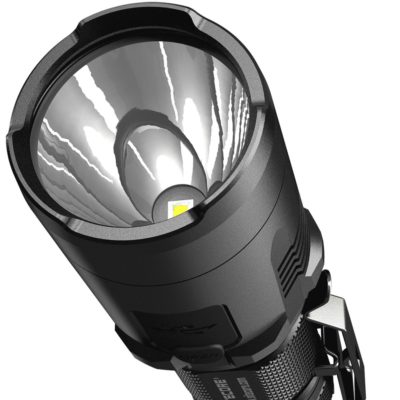 Luckily you can adjust the output to extend the battery life up to 680 hours if you're willing to take a hit on the brightness.  Here is a run down on the brightness levels and the corresponding battery life:
Brightness Levels:
(based on 1 x 18650 Li-ion rechargeable battery)
Turbo: 1000 lumens – 1 hr runtime
High: 410 lumens – 3 hrs runtime
Mid: 230 lumens – 6 hrs 45 mins runtime
Low: 50 lumens – 22 hrs runtime
Lower: 1 lumen – 680 hrs runtime
(based on 2 x CR123 batteries)
Turbo: 1000 lumens – 45 mins runtime
High: 410 lumens – 2 hrs 30 mins runtime
Mid: 230 lumens – 4 hrs 30 mins runtime
Low: 50 lumens – 14 hrs 15 mins runtime
Lower: 1 lumen – 340 hrs runtime
The Nitecore MH20GT can be recharged using the built in micro-USb port, if fitted with a suitable battery, which is an 18650 Li-On rechargeable battery.  It can slo be run on two CR123 batteries if needed.  This is a good idea as it means you can keep some non rechargeable batteries in your kit as a back up.
The powerful light is supplied by a Cree XP-L HI V3 LED which offers amazing reach and powerful peripheral illumination.  The torch features ATR (advanced temperature regulation) to counter some of the heat output by the really powerful LED bulb.  Without it, the torch would not be holdable.  Being able to fit a cooling system in such a small object is an impressive feat in itself.
This super powerful pocket torch has the added benefit of being IPX-8 rated which means it is 2 metre submersible and it resistant to impact up to 1.5m, with the toughened mineral glass also have a non reflective coating.
This is a super powerful torch, yet is is really small.  The features seem to far outrstip it's proportions which makes this an absolutely amazing carry option.  You get the benefits of a really bright torch in a really compact form.  All in all, a beast of a torch that offers incredible value for money.
Please note that the required 18650 Li-On rechargeable battery is not included and is purchased separately.
Check out the latest pricing on the Nitecore MH20GT here.