According to the manufacturer, the Nitecore Tube is the world's lightest rechargeable flashlight, weighing in at a mere 9.6g. Now, I cannot comment on whether anyone else has produced a lighter rechargeable torch than this one, but I can happily confirm that the Nitecore is very small, very light and very bright.
It is just a touch over 5cm long, less than 2cm wide and 0.8cm thick. Yet, somehow Nitecore have managed to fit a powerful LED light, battery and a USB C charging port into its small polycarbonate casing. Oh, and it's also impact resistant and IP65 rated so if it gets wet or dusty it'll just shrug it off.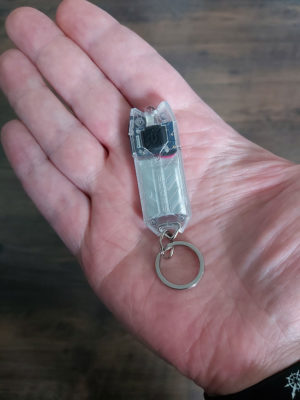 Not bad so far, it seems like there is a lot to like in this small package.
And it gets better – this teeny weeny light has several built in light modes, offering a flexibility normally reserved for bigger torches.
First, a single click of the rubberised button turns the light on in 'Low' mode  This emits a 1 lumen light that apparently could be left on for an amazing 58 hours.
Clicking the button a second time turns on 'High' level, emitting a dazzling 55 lumens, although the extra brightness does lead to more power usage, so at the level the torch can run for 1 hour and 15 minutes.  That is really great for such a tiny torch.
When the torch is off, pressing and holding the button over 1 second turns on the high beam, turning off when you release the button.
Then, as if these modes were not enough, when the light is off, a short press followed a long press turns on the 'variable mode' whereby the light cycles from low to high repeatedly.  You can simply release the button once you have the level of light you need an it stays on at that level.
Phew.  That must be enough, right?  Nope.  One more thing – it has a 'lockout' mode.  When the light is on, press the button for over 3 seconds until the light flashes once and the button becomes locked.  This is so it doesn't accidentally turn on in your pocket.  Reverse the process by pressing the button for over 3 seconds and the lockdown mode is released.
This is a surprisingly good range of features for a super bright, easy to carry flashlight that is so very small.
Brightness wise, it's difficult to measure lumens unless you have a light meter set up, but I'll take their word for it.  55 lumens is ideal for a tiny pocket flashlight like this, the 25m range would be more than adequate for most personal uses.
If you're looking for a great piece of kit to add to your keyring, look no further than the Nitecore Tube.  It's a super bright, super small flashlight with excellent features, and it is really great value.  You really do get a lot for your money.
The Nitecore Tube is available to buy on PocketDump.com